Latest News
Report on Training Day 11th July 2021
(July 12, 2021)
---
ILFA held a Training Day in Laois Angling Centre on Sunday 11th July 2021 to help improve fishing and boating skills of our members. 10 members attended, some new to fishing, some old friends wishing to improve their skills.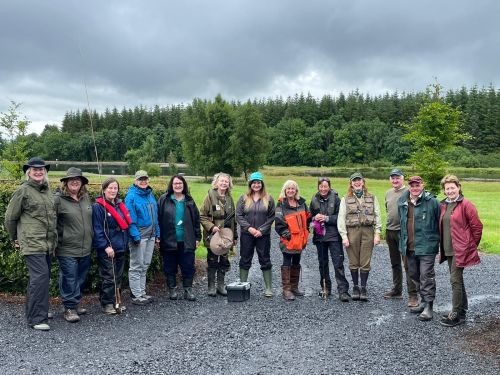 Photograph courtesy of Mel Douglas-Kerrin.
LtoR: Elizabeth Kirwan, Anita Layden, Biddy Hayes, Ann Kerrin, Mary McGovern, Louise Fitzgerald, Ingrid Melin, Cathy Cosgrove, Sara Hogan, Edel Decies, John - Laois Angling Centre, Garret Ruigrok APGAI, Enda Laois Angling Centre.
We were warmly welcomed to LAC by Enda and John. Our new members were quickly kitted out with rods, reels and lifejackets. Instructor on the Day was Garret Ruigrok APGAI, and he soon had the new members practising at the Casting Pool while the more experienced set up along the shores of the various lakes. Lots of fish in the lakes but they weren't giving themselves up too easily so it took skill and patience to land a few. We had a welcome break for a picnic lunch thanks to Edel and Louise, and Enda of LAC supplied us all with teas and coffees. Back to the lakes and Garret had words of wisdom for each of us. The new members progressed very well and were casting with ease by the end of the day. Everybody learnt something, and it was good to meet up, chat and have a relaxing day. A great start to the year which whetted our appetites for lots more exciting days ahead.